David Warder
David was brought up in a household with holistic values, where massage was used every day as first aid to all forms of ailments. By high school he had built the habit of self-treatment and internalized the simple principle of "push where it hurts". His experience with the benefits of bodywork lead him to continually tout the power of massage to those around him, and quite naturally he decided to hone his own skills with formal training earning both California and National certifications.
Now a specialist in Triggerpoint Therapy and Zen Shiatsu, two modalities with polar opposite approaches, he is able to go far beyond the "push where it hurts" concept to search out the root causes of imbalance which may be hiding far from the symptoms. He is naturally drawn to a more therapeutic and problem-solving approach with his sessions, but feels strongly that the work must be kept in a comfortable range rather than the "no pain, no gain" attitude found elsewhere. For those looking for a more relaxing visit, David usually draws on the continuous and hypnotic techniques found in Hawaiian Lomi Lomi. Very similar to Swedish, Lomi is a circulatory massage that uses oils to soothe away the stresses of the day.
From Olympic and high school athletes to pregnant mothers and businessmen, David is able to find the right treatment for each client. He can help whether your goal is to avoid a surgery, balance a workout routine, reduce the impacts of a long flight, smooth emotions after a loss, or so much more. Feel free to directly call or email with any questions.
When not in session, David spends his time at his home in Normal Heights with his wife, Leah, and two wonderful daughters, Willow and Aspen. He also teaches Zen Shiatsu and Triggerpoint Therapy at Healing Hands School of Holistic Health.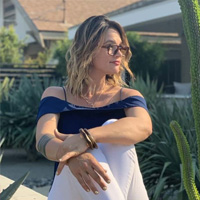 Leah Warder
Leah is a skilled and intuitive Holistic Health Practitioner, whose passion for health and wellness has driven her to explore multiple careers in the field of massage therapy.  Beyond providing an exemplary deep and relaxing therapeutic massage, Leah is skilled at organizing and hosting private events, and managing corporate wellness programs. Her professional, yet approachable, style is guaranteed to attract customers and impress guests. An experienced director of a highly reputable massage school, and a hiring manager for an elite mobile massage company, Leah has a talent for attracting and recognizing the most skilled therapist. A founding member of Warder Bodywork, she brings forth her experience, passion, and love for spreading industry awareness and improving health and wellbeing to all she encounters.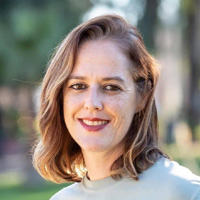 Bonny Woods
Bonny is a calm, quiet and confident and experienced massage therapist who has been in the field for over a decade. She recently took a short hiatus to have a beautiful baby boy. Lucky for us, we were able to swoop her now that she's ready to get back to healing the world one body at a time.
Bonny's presence is serene and nurturing. Her touch is firm, her strokes are long and soothing and her focus is detail oriented and therapeutic. Her sessions balance a mix of focusing on areas the client requests and following her intuition in the discovery of other areas that need work. The modalities she most frequently taps into are Swedish, deep tissue techniques, and trigger point therapy to release tension and stuck muscles.
Bonny's ideal clients aren't afraid to communicate their needs. They believe in the healing power of massage and are consistent and committed to their healing. Bonny enjoys having a variety of clients because it keeps her learning new things and new ways to approach her work. Come experience her work, you won't be disappointed.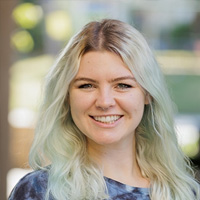 Maren Hoflund
Maren is a massage therapist and holistic health practitioner, who specializes in therapeutic and cupping massage. With an educational background in bodywork, herbalism, nutrition, energy work, and somatics, Maren provides holistic treatments for the body, mind and spirit. She is the host of the podcast Embodying Holistic Health and in her free time enjoys reading, hiking, and spending quality time with her partner and their snake Isla.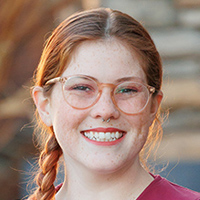 Sarah Dupaquier
Sarah graduated in 2020 from The Lauterstein-Conway Massage School & Clinic in Austin, TX. Having worked in both relaxation and clinical based spas, she is able to find the right combination of providing needed relief and keeping her clients relaxed. Each massage brings elements of Swedish, Deep Tissue, and Orthopedic. Originally from San Antonio, Texas, she decided to try her hand (literally) out west and made the move to San Diego in 2022. Her goal with each massage is to bring relaxation and a general sense of well-being to her clients.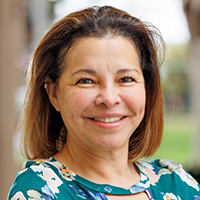 Sandra Roe
Sandra lived a huge part of her life in Fort Wayne, Indiana. She sometimes wonders how she got so involved in Massage Therapy. Well, here is what she has to say: After being in sales, customer service, and management assistant I got tired of the
corporate world. My husband and I used to have a neighbor who was a massage therapist and we decided to get an appointment with her and investigate massage therapy.
After the appointment I told Joe (my husband) that I wanted to pursue that career. I was positive that I would love it. I went to massage school. I took the national test certification and I started working as a Massage Therapist: My clients loved me and the word of mouth moved so fast that I got extremely booked very soon. I decided to go work at a very big spa in the area but my husband's health started to deteriorate
and I went back to work at a smaller spa with more flexibility. In the meanwhile I went back to college and I got a major in Organizational and Interpersonal Communication and a minor in OLS (Organizational and Leadership Services)
After my husband passed, I remember I was grocery shopping and I saw my old boss who asked me if I was still working and I said: " yes I am." He asked if I was interested in teaching massage therapy because they had opened a school and were needing a good instructor. I liked the idea and I decided to keep on working as a Massage therapist and as a massage
instructor. I was teaching: Anatomy, Physiology, Kinesiology, Generals, different modalities of massage and making sure that my students became the best in the modalities they felt comfortable with. like : "let's put it together; what do I do best?
In 2022 my son, who lives here in San Diego, asked me to come to live close to him because he and his family is the only thing I have left. So, here I am.
I love reading, taking long walks; I'm also hoping I can find a good art school where I can learn how to paint ( I love art), and massage therapy is my passion. I hope with all my heart that I can make a positive impact on every person that crosses my life.
I live in Kensington and already love this community. My wish is that we at Zen Sanctuary can be part of a very possitive community influence. I am grateful for this new opportunity!!!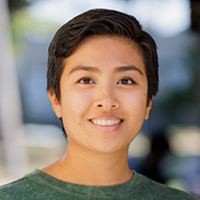 Bernie Reyes
"I discovered my love for the massage profession through my personal experience of providing massage therapy to my partner while he underwent cancer treatment in 2020, before I had any kind of massage training. My background includes studying French language and literature, and I grew up in a bilingual family speaking Cebuano and English. My interest in understanding different languages and cultures has also inspired me to explore various schools of thought related to mind-body-spirit healing.
Since discovering my passion for healing, I have trained in various modalities including Swedish massage, Hawaiian lomi lomi massage, deep tissue sculpting, acupressure, reflexology, manual lymphatic drainage, and reiki energy healing. I combine these techniques to create a customized healing session for each client, with the goal of providing a flowing, soothing massage while also addressing areas of pain, stiffness, or injury.
In addition to my work at Zen as a massage therapist, I am also an admissions advisor at Healing Hands School of Holistic Health, where I help guide aspiring healers on their educational journey. When I'm not working, I enjoy singing, yoga, nature walks, and crocheting. I believe in the importance of physical touch and the healing power of massage, and I am committed to continuous learning and expanding my skills to better serve my clients."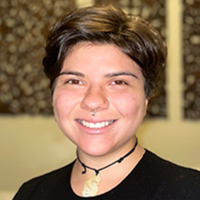 Itzel Jaime
Integrating holistic wellness into all areas of her life allows Itzel to share health with others in a way that is true to her. Within her massage therapy practice, Itzel pairs her intuitive nature with an anatomical understanding of the body in order to help her clients achieve their personal wellness goals. As a CMT and HHP she is able to assess the client's needs, incorporating necessary styles of treatment ranging from sports medicine, deep tissue, circulatory practices, and eastern healing modalities. Ultimately, Itzel strives to bring comfort, pain management, and an overall sense of well-being into the lives of her clients through each uniquely-tailored treatment session.